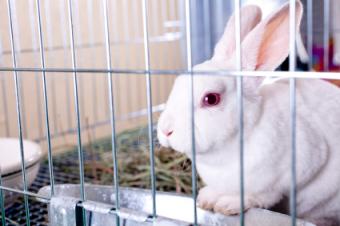 Getting your child a new bunny for Easter or any other occasion might seem like an inexpensive gift. However, the cost of the supplies you'll need can quickly add up to much more than the cost of purchasing a rabbit at your local farm supply store or pet shop. The cage is the most expensive item your new rabbit will need. A rabbit cage should be at least four times the size of your rabbit. One solution to reduce this expense is to find a used rabbit hutch for sale.
Pros and Cons of Used Rabbit Hutches for Sale
There are both advantages and disadvantages to purchasing a rabbit cage used as opposed to new.
Pros of Buying Used Hutches
You'll save as much as $100.00 over buying new.
The previous owner can tell you about any difficulties with the cage design and you can fix them.
You may be able to get the cage free.
You will be able to afford a larger cage since rabbits need plenty of space.
Cons of Used Rabbit Cages
The cage may be worn and in need of repair.
A previous inhabitant may have had a disease that could be passed on to your bunny.
If you plan to keep your rabbit indoors, a used cage might not be esthetically pleasing.
Where to Find Used Cages
Look for used rabbit cages in your local weekly paper in the classifieds section. You may be able to locate a used cage at one of the following sites.
Rabbit Hutches eBay
Since eBay is an auction site, the availability of used rabbit cages likely changes daily. Still, it's worth checking just to see if anything is available and if it's in your price range. One word of advice - don't buy any used cage unless the seller offers a clear photo so you can judge the cage's condition and if it's really worth purchasing at all.
Craigslist Bunny Cages
You can definitely find used cages offered at Craigslist from time to time, but as with eBay, availability will vary. When you search for used rabbit cages at Craigslist, the search engine will automatically search for you locally without having to designate your city. If there aren't any local results, it will search for cages near your location, which typically means within driving distance of an hour or two. Again, make sure there are pictures of any cages you are interested in so you have a good idea of what you might wind up purchasing.
Local Sourcing
If you plan ahead before bringing a new rabbit home, you may also be able to locate a used cage through a friend, family member, co-worker, or maybe even the rabbit's breeder. Let people in your circle know that you are looking for a used cage. Chances are that someone either has a cage or knows a neighbor who has one available. You may even be able to take the cage off their hands for free.
Avoid Wood Cages
Keep in mind that without having personal knowledge of the seller, it is impossible to know about the rabbit that inhabited the cage before yours. Avoid used wood cages since they can hold chemicals and bacteria, and they are more difficult to clean.
How to Clean and Prepare Your Used Rabbit Cage
Rabbits are sensitive to chemicals, so use a mixture of one part vinegar to four parts hot water.
Take out any bowls or other items in the cage and wipe the cage down from top to bottom on the inside and outside as well as the door.
Remember to clean the floor thoroughly to remove any deposits of urine.
It is best to replace any feeding bowls and water bottles.
Clean the new feeding dishes and water bottle with hot water before placing them in the cage.
Wire Rabbit Cages
Some wire cages come with a wire bottom and a pan underneath to catch waste. Although this can make it easy for you to care for your rabbit, this isn't a comfortable setup for your pet. A rabbit's feet are tender, and the wire bottom can be painful. Consider laying cardboard or towels over part of the wire bottom, so your rabbit can rest comfortably. If the wire door has plastic coating, replace the door with one that is uncoated. Check latches to make sure they are secure.
Is It Worth It to Purchase a Used Rabbit Hutch?
Purchasing a used cage can entail quite a bit of work, especially if the cage is in need of repair. While you will save money, you may want to consider if it is worth it to spend more and get the advantages of a modern cage, such as easier-to-clean surfaces. If you plan to keep the cage indoors, you may also want to invest in a new model that blends in with your other furnishings. A good cage doesn't necessarily have to cost a bundle, but using a cage that isn't built correctly or has issues can create health problems that cost a bundle to have treated. Consider the elements mentioned above, and you'll be able to make an informed decision on whether or not to buy that used cage.