Guinea Pig vs. Hamster as Pets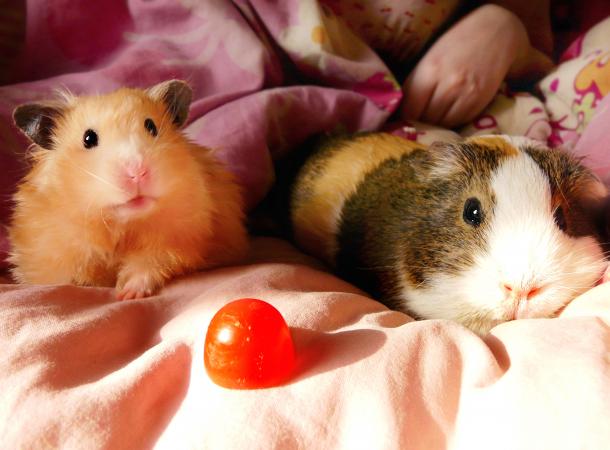 If you're looking for a small, furry pet that doesn't take up a lot of room, Guinea pigs and hamsters are two obvious choices. Each has their pros and cons depending on your unique needs and available time to care for your small pet.
Guinea Pigs and Hamsters: A Comparison Chart
| | | |
| --- | --- | --- |
| | Guinea Pig | Hamster |
| Ease of Care | Requires cage cleaning several times a week | Requires cage cleaning once or twice a week |
| Size | 2 to 4 pounds | .8 to 3.5 ounces |
| Noise level | Makes various squeaking and whistling sounds. | Very little, if any, noise. |
| Lifespan | 5 to 8 years | 2 to 3 years |
| Sociability | Can live with other Guinea pigs and other animals | Hamsters are mostly solitary and often need to be housed alone |
| Handling | Easier to handle and generally gentle. | Can bite and more fragile to hold. |
| Space | Need a larger cage to be happy and can live indoors or outdoors if weather permits. | Can live in a smaller cage but must live indoors |
| Variety | There are 13 breeds to choose from. | Only 5 breeds of hamsters can be pets (out of 24). |
Pros and Cons of Guinea Pigs
Guinea pigs are adorable pets but owning one isn't as easy at it looks. They do have some care needs that might be an issue for you depending on your schedule.
Benefits of Owning a Guinea Pig
Issues to Consider When Choosing a Guinea Pig
Pros and Cons of Hamsters
Hamsters are a good pet for children as they're easier to care for although adults should always supervise their care. Like Guinea Pigs their care requirements may or may not be a good fit for your lifestyle.
Benefits of Owning a Hamster
Issues to Consider When Choosing a Hamster
Choosing Guinea Pigs vs Hamsters
Ultimately which pet you choose is based on personal preference and while their care needs differ, they also have many similarities. While both pets are favorites with children, an adult will need to supervise their regular care, particularly with younger children. The age of the children and their ability to handle animals properly is also an important consideration as hamsters aren't the best choice for very young children unless an adult will be doing the handling.