175 Parrot Names Perfect for Your Pet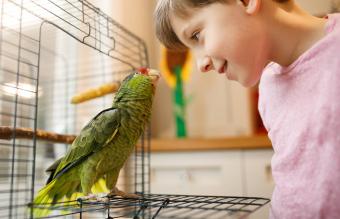 You can find the perfect parrot name from a listing of 175 good choices. You can take your time in considering how each name might fit your parrot pet.
Perfect Choices for Good Parrot Names
Parrots have their own personalities. That means a one size fits all won't work when it comes to finding the right name for your feathery friend. Many names are unisex so you can use for either gender.
Astra
Ava
Baxter
Beau
Bella
Bette
Birdie
Blair
Captain
Casper
Celeste
Charlie
Comet
Crimson
Dahlia
Deme
Diva
Goldie
Griffin
Jackson
Luna
Pilot
Rett
Rio
Rocky
Shadow
Skye
Sterling
Sunny
Zoe
Funny Parrot Names
Have a little fun by considering a few funny parrot names. Your parrot may prefer having a humorous name and if clever enough will let you know!
Anita Bath (The Simpsons)
Anita Room
Aretha Holly
Bea O'Problem (The Simpsons)
Cannonball
Claw
Crook
Crow
Duck
Dutch
Emma Nate (The Simpsons)
Flea
Giles
Gilly
Helen Back
Helen Highwater
Ima Hogg
Joe King
Kangaroo
Kay Oss
Lamb
Maggot
Maple
Monkey
Moo
Powder
Rex Carrs (The Simpsons)
Risky
Rufus
Rusty
Salty
Sassy
Skunk
Sparky
Whiskers
Pirate Parrot Name
Ahoy there, mateys! There is an expectation that a parrot is a good fit for a pirate name. You can test out a few of these pirate names before making a final decision on your parrot's moniker. You may consider the type of pet parrot you have to help narrow your choices.
Anne Bonny
Bartholomew Roberts
Benjamin Hornigold
Billy Bones (fictional)
Blackbeard
Calico Jack
Cap'n Crunch (fictional)
Captain Blood (fictional)
Captain Firebrand (fictional)
Captain Hook (fictional)
Captain Nemo (fictional)
Charles Vane
Christopher Moody
Douglas "Dawg" Brow (fictional)
Edward England
Edward Lo
Francis Drake
Grace O'Malley
Henry Morgan
Howell Davis
Jack Sparrow (fictional)
Jean Laffite
Long John Silver
Mary Read
Morgan Adams (fictional)
Patchy (fictional)
Richard Worley
Samuel Bellamy
Sayyida al Hurra
Sir Francis Drake
Stede Bonnet
Thomas Tew
Tom Bristol (fictional)
William Kidd
Woodes Rogers
Famous Parrot Names
Famous personalities offer a wealth of possible parrot names. You can choose from a select group of famous names that could offer the perfect match for your parrot friend.
Adele
Adrien
Angelina
Ashton
Boo Boo
Brad
Christian
Colin
David
Einstein
Elvis
Grant
Harrison
Hendrix
Isla
Javier
Jensen
Jude
Keanu
Kendall
Kevin
Kylie
Liam
Marie Curie
Matthew
Pippa
Reese
Rihanna
Ryan
Scarlett
Sean
Selena
Shakespeare
Stephen
Tesla
Cute Parrot Names That End in "O"
Cute parrot names often bring a smile or two. Decide if your parrot is ready for a cute name that ends in "o" by trying out a couple to see how they fit.
Alfredo
Alonzo
Apollo
Arlo
Armondo
Benicio
Bruno
Cairo
Cleo
Coco
Dario
DeAngelo
Diego
Eduardo
Eliseo
Ernesto
Francisco
Gustavo
Jairo
Jericho
Kenzo
Kylo
Leno
Leo
Leonardo
Margo
Mario
Mojo
Nico
Orlando
Otto
Pedro
Rio
Romeo
Rico
Five Disney Parrot Names
Disney features a few parrots which you may consider their names for your pet parrot. A little background on each parrot can help you decide if it's a good match for your parrot pet.
1. Captain Peghook
While Captain Peghook is a parrot ghost in DuckTales, you may like the name. Just make sure your parrot doesn't decide to become a terrifying menace just to live up to its new name.
2. Groucho
Groucho is a real parrot that is featured at Disney's Animal Kingdom. Groucho is a big hit since he actually signs songs to visitors.
3. Iago
In the Disney animated film Aladdin, a sarcastic parrot is introduced. Iago turns out to be a rather loud mouth. This might be a good name for your pet bird if you have a real chatterbox on your hands.
4. José Carioca
The 1943 Disney animated film Saludos Amigos introduces a sophisticated parrot. Hailing from Rio de Janeiro, José Carioca turns out to be a class act. You might find this name an excellent fit for your own stylish parrot.
5. Parrot
In the cartoon Mickey's Parrot, Mickey and Pluto discover a stowaway parrot on their ship. The parrot is simply known as Parrot. This can make a cute name for your new pet.
Finding the Best Name for Your Parrot
You can find many good names for your pet parrot. With 175 choices, you're sure to find the perfect one that conveys your parrot's personality.