150 Pet Hedgehog Name Ideas
Whether you want a funny name, a serious moniker, or something in between, this list of adorable pet hedgehog name ideas has you covered. You'll find great options for girl and boy hedgehogs that will make you smile.
Hedgehog Names That Start With "H"
Nothing is cuter than a hedgehog with an "H" name. Say hello to one of these adorable options:
Hector
Hazel
Hank
Henrietta
Harvey
Happy
Hiram
Harper
Hans
Hermione
Herschal
Harriet
Humphery
Hattie
Horace
Hedwig
Hercules
Helen
Horatio
Henrietta
Hal
Hilda
Hamish
Holly
Herb
Hortense
Hoover
Hyacinth
Homer
Harmony
Harrison
Haven
Hughie
Harley
Hagrid
Heather
Hoagie
Hillary
Hurley
Hobson
Punny and Funny Hedgehog Names
With their spikey spines and adorable faces, pet hedgehogs are practically begging for funny or punny names. Inspired by thorny plants, famous people, and other creative things, these ideas are sure to make people smile:
Spine Cone
Spinosaurus
Stabby
Pokey
Cactus
Thistle
Pokey-man
Hokey Pokey
Needles
Q-Tip
Pin Cushion
Urchin
Sharpy
Quill-hemina
Prickly Pear
Quilliam Shakespeare
Nathanial Howthorne
Pokahantas
Spike Lee
Fang
British Names for Pet Hedgehogs
Hedgehogs live wild in many parts of Great Britain, so it's natural to choose a British name for your spikey friend. One of these might be perfect:
Annabel
Lennon
Arabella
Pippa
Alastair
Winston
Jasper
Clementine
Giles
Imogen
Hog-Themed Hedgehog Names
Play up the "hog" part of your pet hedgehog with these names inspired by pigs. One of them may be perfect for your little cutie:
Piglet
Wilbur
Miss Piggy
Ham
Oinkers
Bacon
Hamlet
Porkchop
Grunty
Babe
Porky
Adorable Hedgehog Names
There isn't much that's cuter than a pet hedgehog, and your friend's name can be just as cute. Try one of these adorable names, especially if your hedgehog likes to cuddle:
Teacup
Button
Biscuit
Daisy
Muffin
Pixie
Softie
Cupcake
Snuggles
Lil' Bit
Pipsqueak
Tatertot
Velvet
Nugget
Trixie
Beanie
Nibble
Yoda
Cashmere
Sweetie
Beautiful Girl Hedgehog Name Ideas
Many hedgehog names work for both genders, but some are just for girls. If you want a name that's super feminine and fun, consider one of these ideas.
Flower
Crystal
Ruby
Penelope
Stella
Petunia
Lulu
Rose
Princess
Starlight
Unique Boy Hedgehog Names
Boy hedgehogs are sweet too. Celebrate his masculinity with one of these unique options:
Pan
Cossimo
Calix
Bruno
Enzo
Sebastian
Buzz
Achilles
Dash
Gunther
Brown and Gray Hedgehog Names
According to the International Hedgehog Association, these adorable pets come in a wide array of colors. Many display shades of gray or brown, which can inspire your name choice:
Toffee
Toast
Snickers
Ginger
Honey
Nutmeg
Peanut
Maple
Smokey
Coffee
Autumn
Shadow
Latte
Silver
Acorn
Dusty
Cinnamon
Truffle
Meatball
Coco
White and Albino Hedgehog Name Ideas
White or albino hedgehogs are exotic, and they need names that celebrate their beautiful pale coloring. Consider these ideas:
Snowball
Arctic
Moonlight
Ivory
Blizzard
Coconut
Marshmallow
Pearl
Albus
Vanilla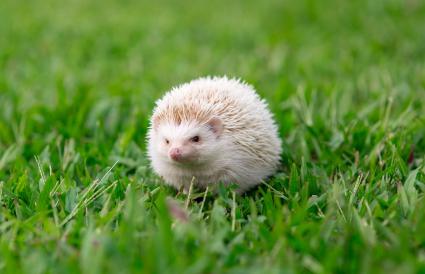 Choose a Hedgehog Name You Love
Choosing a name for your pet hedgehog doesn't have to be difficult. Think about what makes your pet special, such as her coloring, her personality, or her adorable face. Choose a name that celebrates what you love!